When was the last time you went on a quick overnight trip?
It's kinda awkward to bring large luggage when all you got is a change of pants and top, maybe a pair of shoes, some underwear and toiletries, sleeping clothes, maybe an extra towel, and, of course, your gear and gadgets. You're going to look pretty silly keeping just these in your big-ass baggage. Well, I guess it's about time to get a convenient overnighter!
Crumpler, the unique Australia-based bag company, the one with the decidedly unique naming convention, has a line of overnight bags for you, and the latest of that line is something they call Dry Red No. 3. It's a light, compact bag with anti-jam wheels that keep the bag moving smoothly as you drag it along the concourse. It has a three-position neoprene-grip trolley handle that extends to half-height, full-height or disappears completely into the body of the bag. There are additional dual-padded grab handles on the top and the side of the bag when you decide to carry it as opposed to pulling it. The base and side is structurally reinforced so it stands stable vertically or horizontally.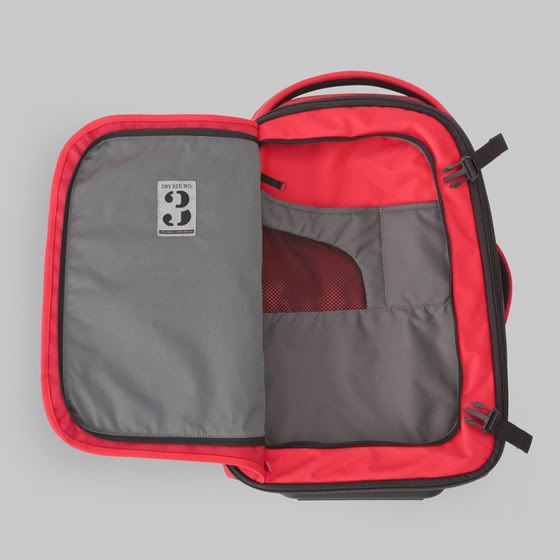 There is a front pocket with a padlock loop, and it comes complete with a four-compartment organizer where you can keep your laptop and other gear. The 27-liter main compartment is for your clothes, and there is a zippered mesh pocket on the opening flap of the bag for your toiletries, and where is inserted a foldaway shoe bag to keep your footgear in. There are a couple of zippered sidewall mesh pockets as well (on second thought, it might be better to keep your toiletries there instead), and an elasticized compression strap to keep your clothes in place and looking as fresh as they were when they were first packed. The main compartment's zipper is also lockable, for those times when you might have to check the bag in and keep your belongings secure.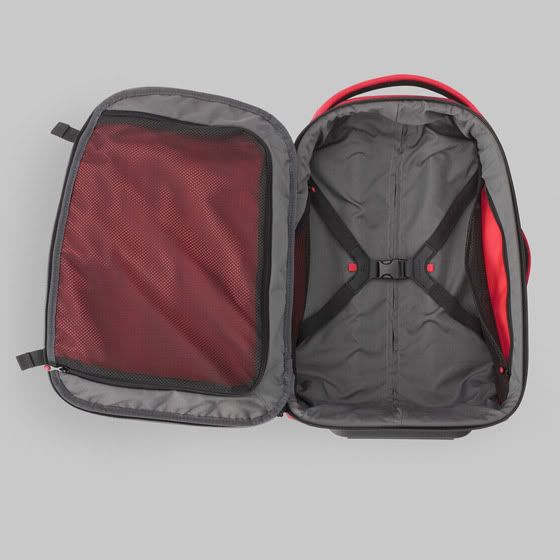 The material the bag is made from is tough and water-resistant. In fact, the bag went through a travel simulation torture test at Crumpler, and it was treated to all sorts of situations imaginable - where the bag prototype is dropped, dragged, beat up, thrown around, and opened and closed several hundred thousand times. You can be sure your bag won't fall apart at the slightest excuse, and will hold together under the toughest travel conditions.
So the next time you have to slip away for just a night or two, rest assured you're in great hands with Crumpler's Dry Red No. 3.
Availability: Crumpler Stores (The Fort, Trinoma and Robinsons Ermita)
Price: Php 8,950
PROS:
Nice, compact, tough overnight bag
Good anti-jam wheels
Stands stably in horizontal or vertical mode
CONS:
A bit on the expensive side for an overnight bag