I was looking around for a computer TV app/hardware combo that I could watch on my iMac and my iPad, since I didn't have a TV in the room and had to go out if I wanted to catch something on the tube. I was particularly looking for a Slingbox, since a gadget like that would answer all my needs – it was a device that allowed you to watch your cable TV in HD from anywhere in the world. But in the back of my mind I was wondering how it would work with our cable TV provider, since our account came with a digital cable box that unencrypted the encrypted TV signal.
Lo and behold, I came across a Slingbox Tuner on one of the online selling sites. A Slingbox …Tuner?
A quick search on the web gave me the info that Slingbox had discontinued the Slingbox Tuner some time ago, and was now only selling the Slingbox Solo and the Slingbox Pro-HD, a wondrous device which also doubled as DVR with multiple inputs and HD output online and all that. They had all these inputs in the back that allowed for a a cable box, satellite receiver, a DVR and all that home theater stuff.
The Slingbox Tuner version was a simpler affair, and all it had was a power input, a network cable output and in and out coax ports. That was it.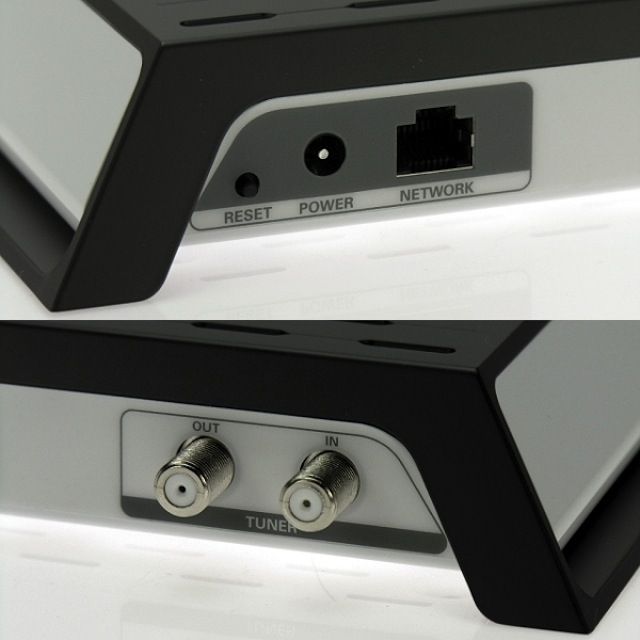 Although the Slingbox Tuner was obsolete, the guy was selling it brand new, and cheap (under $100)! Might be worth a look.
So I bought it. Turns out to be a mixed bag.
The Slingbox Tuner came in a big box with a couple of coaxial cables, a cable box splitter, a short network cable, a power adaptor and the requisite CD-ROM (which was also obsolete, and only for Windows, which made it doubly useless for me, being a Mac user) and instruction manual. It was a small device, and you can easily hide it in your A/V cabinet. If you're looking for composite video connections or HDMI, you can forget the Tuner; it only connects via coaxial, and is thus confined to an analog connection.
I hooked it up to the main TV cable setup in the house: I connected it to the power supply and the network router, and tried to figure out how to connect it to the cable digibox. Which was a big honking clue that it wouldn't pan out, since it was an analog device. I connected it to the TV RF coaxial output since that looked promising. And that was the only output of the digibox other than the RCA audio/video jacks which were already in use.
Then I set about registering an account with the Slingbox site and tried to get it to recognize the Tuner. Nada. It refused, saying that Slingbox was obsolete, and did I want to upgrade to a newer model of Slingbox, like the Slingbox Pro-HD? The site was going to give me $50 off if I did. Yeah, right.
It took me the better part of the afternoon, but I finally figured out what to do with it… from a buried and hard-to-find portion of the site, under the heading Legacy Desktop Software.
I proceeded to download the old version of Slingplayer (1.0.10 for the Mac) and then registered the Slingbox under it. When I tried to configure the TV settings for the cable box, nada again. It simply gave me static when I tried to auto-configure the channels. Ah. Here was the expected digital conundrum. I was at a loss as to how to connect the damn thing to our cable service, until I remembered that the thing had a tuner inside! Of course it did, its name was Slingbox Tuner!
I immediately grabbed an antenna from one of the old TVs in the house, a pair of jackrabbit ears with a coax adapter, and hooked them up directly to the back of the Tuner. And whaddayaknow? The Slingplayer software auto-configured the broadcast channels, and pretty soon I was watching TV on my Mac through the network router.
To be sure, these are only the publicly available broadcast TV channels, available in a window on my computer, and I could change channels through an onscreen virtual remote control. You can adjust the aspect ratio of the screen from normal, letterbox, pillarbox, windowbox to anamorphic, and shift the virtual remote to the left or right side of the Slingplayer screen, among other things. (And boy, that Slingbox got really hot; I almost toasted my fingers handling it trying to read the serial number on the bottom. That looks like something to worry about.)
So, in effect, I got me an old-fashioned TV tuner for my iMac, and I'm happy. It's not our cable TV, and neither is it in HD. But I can remotely connect my MacBook Air wherever I am and watch, although I'm confined to those broadcast channels. (It stutters and balks when I'm on the net; I guess that's because my upload speeds on my network are kinda slow; gotta get a better signal.)
I still haven't figured out how to do it for my iPhone, although the seller I bought it from is emailing me a link tonight on how to get the obsolete software that lets it run on an iPhone. I'm getting a cable service that's still analog, so I can watch better TV than this broadcast crap I'm currently confined to; they're installing this week. I'm still trying to decide whether or not to spring for the $29.95 Slingplayer for iPad, because it may or may not work, since my Slingbox Tuner is technically "obsolete". That's a big gamble, and I don't know if I'm willing to bet that much on an iffy proposition. (EDIT: I just found out. It doesn't. So I won't.)
But I'm okay for now at least.