The hype is warranted. The new iPad is everything they said it would be. In a word – fantastic!
I got me a white 64GB iPad with 4G LTE last week, a top of the line iPad, a unit from Singapore. From the Retina Display to the new back camera, the quad-core graphics, the Siri dictation, and new Bluetooth 4.0 spec, it's a wondrous machine, and worthy of all the praise and hype given to it. With a few reservations.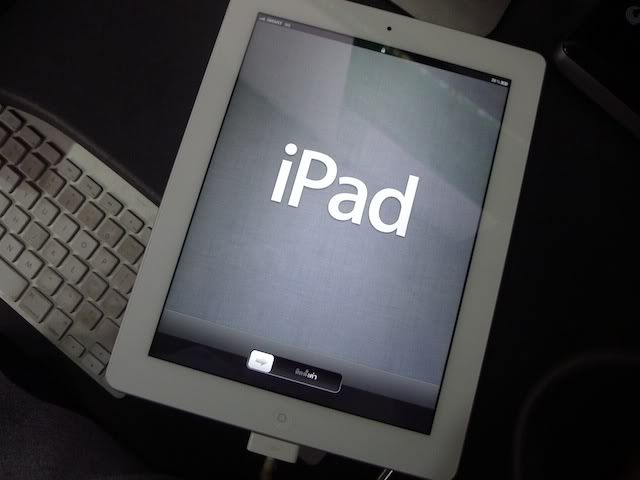 We'll get to those in a bit. Let's start first with the battery and the added weight and girth.
The improved resolution technology and the beefed-up graphics of the A5X chip are bound to cause some battery performance issues. Which is why I guess Apple took the unheard of step of violating their unspoken "newer, thinner, lighter" rule when coming out with a new product and released something that was slightly thicker and slightly heavier than the previous iteration. This is because they put in a bigger, higher-capacity battery that would be equal to the task of keeping the new iPad's power longevity the same as the iPad 2 and the original iPad: around 10 hours.
Slightly is the operative word. You can't really tell it's bigger (by 0.6mm) and heavier (by 60 grams). Side by side with the old iPad 2, you'd be hard pressed to tell them apart and, personally, I couldn't tell the difference. My old back case from the iPad 2 still fits (although it was a tighter squeeze than normal, which was the only way you could tell you were using a new iPad). In fact, I believe most of the old cases and sleeves would still fit the new one, with a few exceptions. It's that close. Everything is in its proper place, and nothing was moved; the camera is still in the upper back, the front camera and home button are still in their rightful places, as are the sleep button, headphone port, speaker, sync/charge port, the orientation and the volume rocker switch.
Charging a new iPad takes longer this time around, I guess because of the newer battery. It was improved about 70%, from 25Wh to 42.5Wh, and it takes roughly around four to five hours from zero to full if you use the provided charger; it takes a bit longer if you charge using your computer's USB port. I've found it best to leave it charging overnight.
The weight issue is largely blown-up by the press. I couldn't really tell it was heavier just by carrying it. I guess in time I'd notice the weight if I was lugging it around, but as it's usually mounted by the SmartCover on a table, there's little chance I'd really be bothered.
And yeah, that issue about the SmartCover's magnets not working properly on the thing – it's because of the magnet polarity. Some of the SmartCovers, especially the older ones, apparently had switched polarity, thus rendering them unusable in turning the iPad off when you put on the SmartCover. No worries, Apple has said they'll exchange your SmartCover with a properly working one (if you asked nicely, and if you lived in the US, I guess).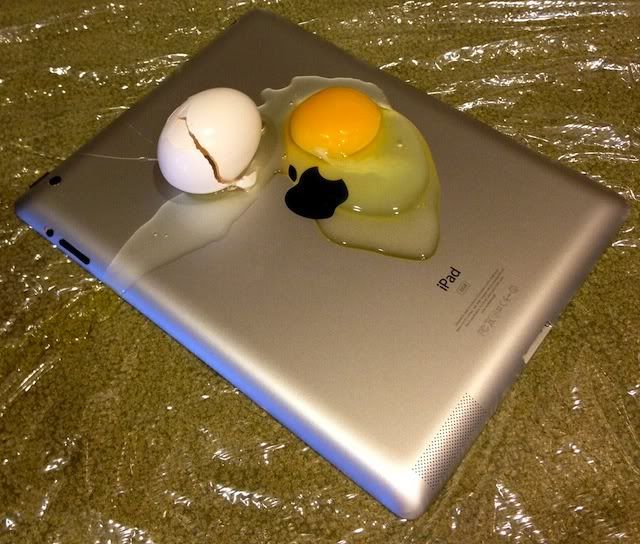 The heat problem is also blown-up. People have commented that the new iPad heats up on the lower back side, to the left of the home button. Yes, it's true, it heats up. But not unbearably so. Far from it. People had just gotten used to their cool-operating iPads, and when confronted with something new that turns slightly warm under use, they get their panties caught in a bunch. Get over it, folks. It does get warm but not overly so, not to the extent that I would complain; with my back case on, I could hardly tell it was warm. It does get a bit warmer when doing something strenuous, like watch a video in HD, but never to the point of getting unbearably hot. Some folk have said you could cook an egg with the heat. Nonsense! It just gets warm, like a loaf of fresh cooked bread, or a nice seat cushion after you'd been sitting on it for a long while. Cook an egg? Sheesh.
Arguably, the new iPad's killer feature is the Retina Display. My lord, ain't it nice? I feel like my eyes have been opened for the first time. It's now 2048 x 1536 pixels on a 9.7″ screen – essentially larger than anything out there today. That's four pixels in place of the iPad 2′s one, about 3.1 million in total. What used to be fine with the iPad 2 now looks positively shabby. You can't appreciate it until you actually see it. Text looks like were really printed on paper. Photo details just pop out, and you'd think you were looking at a stack of professionally printed 8 x 10s. Video at 1080p looks spectacular. Icons look like they'd just jump out at you. Simple photos won't do it justice, I think, but let's try – check out the opening screen below (the new iPad is white; the old iPad 2 is black):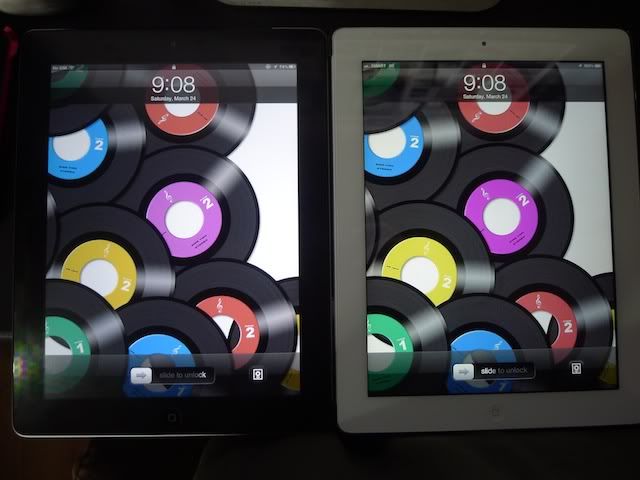 Even apps meant for the iPhone look much better on the new iPad. Usually bumping up the resolution to 2X in these cases made for blurry, pixellated messes. Now with the Retina Display (essentially a 4x-bump) they look fantastic: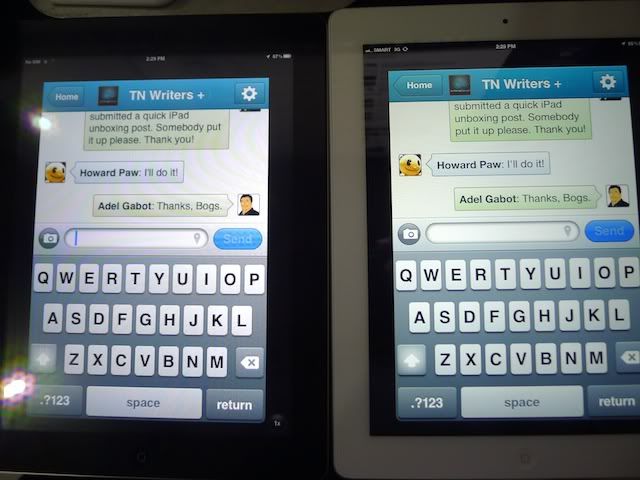 The iPad's icons alone have improved so much in appearance, and it was hard to tell they weren't printed on paper. It's like looking at a glossy magazine page. You really had to try hard to see the pixels. Look at the old iPad 2 icons: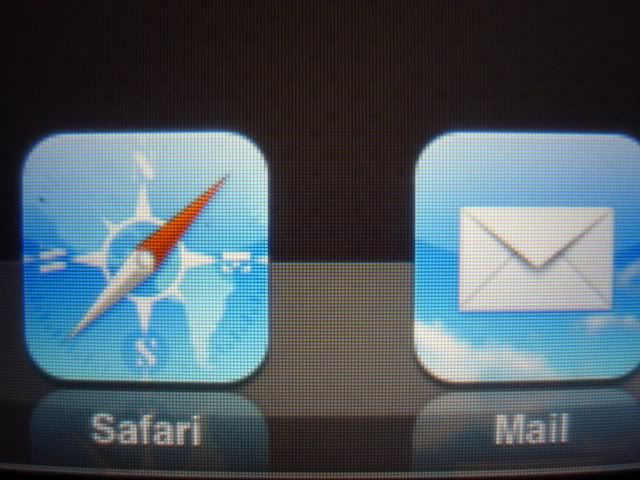 - and the new iPad's version: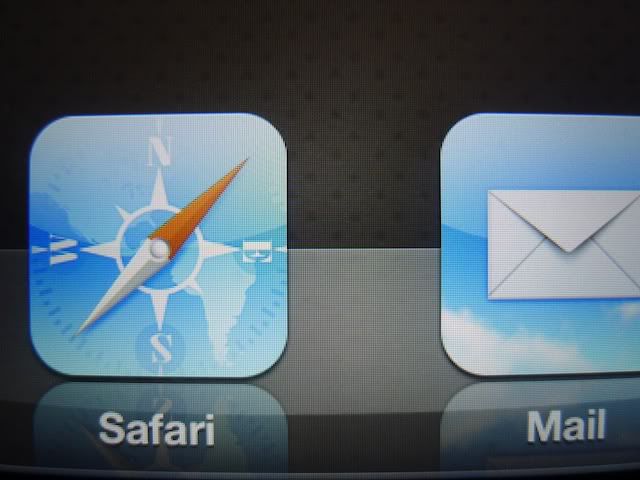 Here's a close-up of the icon for Dragon Dictation, iPad2 on the left, new iPad on the right: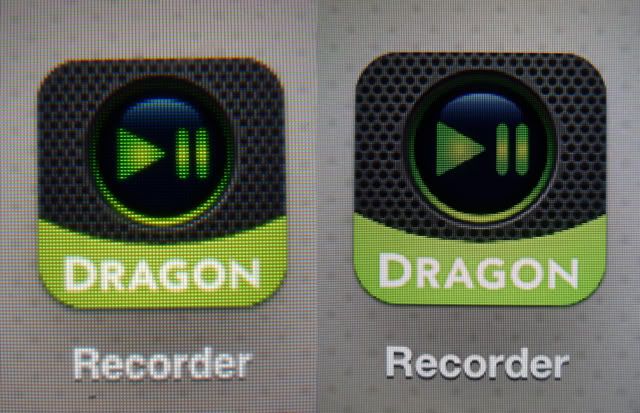 I found the new iPad screen has warmer tones, and isn't as bright and as saturated as the previous iPad 2. This makes for a more natural approximation of the picture you're taking.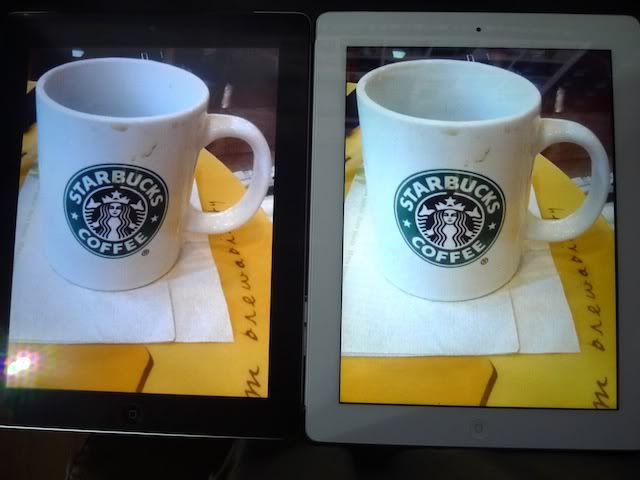 Close-up detail of the same picture, iPad 2 on the left, new iPad on the right (notice how the new iPad colors aren't as saturated as the iPad 2′s, but it looks more natural and more clear now):
The front camera of the new iPad is the same as the previous one, which is to say the same old rinky-dink low res VGA one you can use for FaceTime as usual, but the new improved back camera (iSight camera, they're calling it) is the same 5-megapixel camera they originally put in the iPhone 4, and has better optics and jitter stabilization technology built in. It takes marvelous pictures, and even better hi-res video at 1080p, which makes this iPad a better creation tool than before, and makes the iMovie app and the new iPhoto for iOS must-buys. I just don't know if many users would be seen holding up such a big device in front of their face to take pictures or video, but hey, it's there.
Here's a sample of a photo from the previous iPad 2: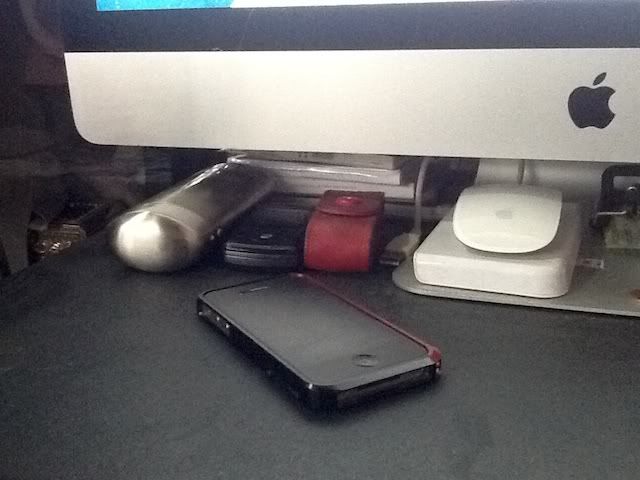 …in comparison with the newer improved back camera of the new iPad: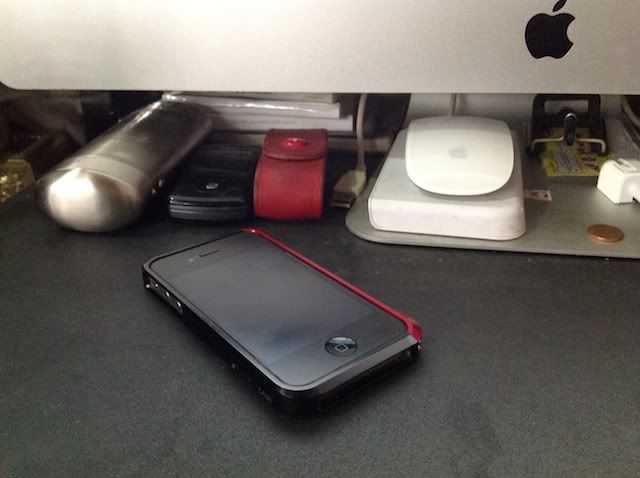 The new iPad operates with 1GB memory and a newer A5X chip, which does things at the usual speed of the previous A5 but now has quad-core graphics built-in, ostensibly to handle the bumped up Retina Display resolution. I haven't had any new apps yet that take advantage of the quad-core graphics, so I haven't tested it, but several are debuting soon, like Infinity Blade: Dungeons, which comes out I think next week. Other older apps seem to scroll faster, and work better, but that's probably just me. The iPads have always been no slouches in the operating department.
The problem for older iPad users is that when these older apps upgrade for Retina graphics, there'll be a corresponding bump up in size as well, because better graphics mean bigger files. New iPad users will enjoy the improved pictures, but older users will have to pay for the bigger file size as these apps are one-size-fits-all. I feel for the 16gb original iPad and iPad 2 users.
I had some amount of trouble with the Siri dictation thing when it wouldn't show up in the keyboard at first. It wasn't until I discovered you had to enable it in Settings/General/Keyboard/Dictation first. Once I set that, it was good to go. It took dictation quite well, I must say, and efforts to mislead it by slurring my words or running them together didn't really faze it much (then again, maybe my radio background gave me unnaturally good diction, so it could be that). I only had to cure the text a little, and it was okay. It's great for those who detest typing out text in the virtual keyboard, and it's great for dictating short messages or email.
The unit I got had 4G LTE, which was an iffy proposition from the get-go. The platform, which promises home wifi-level internet for the iPad and promises amazing connection speeds, is still in its infancy, and the standards have yet to settle. Currently it is in limited release in several key cities in the United States, and in spottier release around the world in various shapes and forms. Apple's international releases of their new iPad apparently are identical to the AT&T units released in the US, so this Singapore unit is AT&T, and will work with the 700MHz and 2100MHz bands. Smart (which is using the 21ooMHz band) and Globe are still in their testing phase, and there is no idea when they'll be releasing it. But thankfully, 3G SIMs still work retroactively in the new iPad, and I got reasonable internet HSPA/HSPA+/HSDPA connection speeds with my SmartBRO unlimited data SIM, as seen in this Speedtest grab: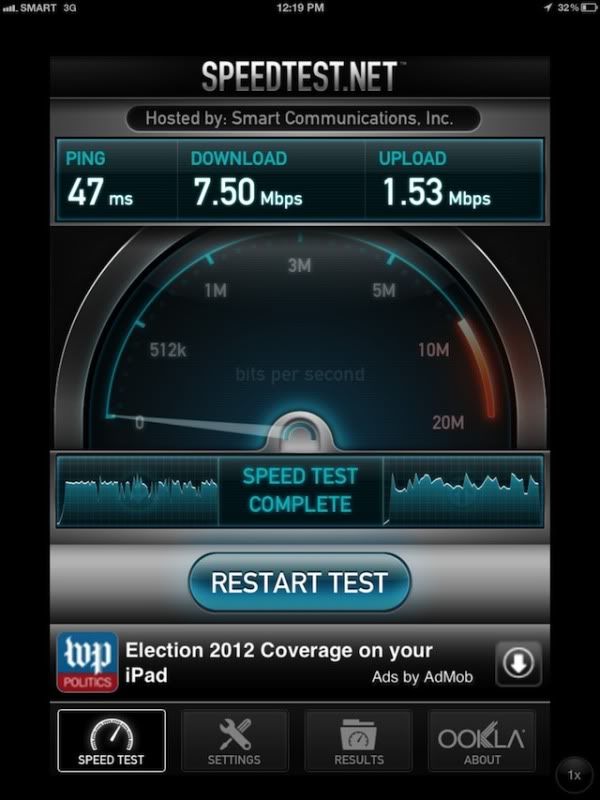 The new support for Bluetooth 4.0 is largely moot until the new Bluetooth 4.0 peripherals start appearing, so we can't test that particular improvement yet but I'll bet that'll hop.
I wish they had done something about the audio portion of the iPad though. As it is, the same old speaker is still there at the bottom right with its hard-to-hear tinny output, and as of this writing there isn't a viable way to input good audio with the excellent 1080p video you can capture on your new iPad.
The new iPad's release in the Philippines is up in the air. Around 25 countries just got them this weekend, and dozens more countries will get them in the very near future, but the Philippines isn't in that illustrious list yet. The iPad 2 was released here May 1 of last year, and if that is any indication, the new iPad will be released around the same time. Or maybe even earlier. At least we hope.
Now, should you upgrade?
If you have the first gen iPad, of course. No reason not to anymore.
If you already have an iPad 2, I'd say it's your call. The improvements, while stupendous, in the end is really up to you. The iPad 2 is still a very serviceable tablet, and the Retina Display and other changes are nice to have, but not strictly necessary.
If this will your first tablet, then by all means man, buy it if you can find one. There isn't a better one available anywhere.