Been to the mall lately? You might have seen in the department store these funny looking old-time phone handsets they're now selling. No, not the whole old-time landline phone with the rotary dial – just the handset, with the curly cable that connects to… apparently nothing. Well, it connects via a plug to your modern cell phone, in case you're wondering, for that old-fashioned landline phone ambience while using modern-day cellular technology.
Check out the Retro Phone Handset, made by WhateverItTakes.org, a charity organization supporting key global development causes including poverty alleviation, environmental conservation and the protection of children. Among their projects is raising funds by selling products adorned by artwork donated by celebrities. Part of the Whatever It Takes Collection, featuring 'symbols of hope for the 21st Century' and adorned by artwork from leaders in fashion, film, television, music and sport, is this external speaker/mic device designed to look like an old phone handset.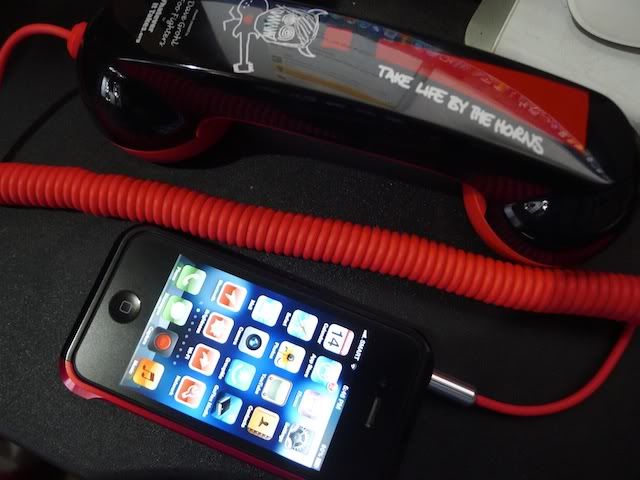 The Retro Phone Handset works with Apple, Android and Blackberry devices via a 3.5mm jack that connects to the cellphone audio port of these devices. There is a pick up/hang up button on the bridge of the handset, along with a volume slider. It eliminates over 99% of absorbed phone radiation, and allows full phone access during calls. You simply connect the plug and you can use your cellphone as an old-fashioned landline phone. As an added feature, there is artwork featured on the handsets donated by artists like Donna Karan, Charlize Theron and Dave Grohl of the band Foo Fighters.
In use, the handset has a loud, clear volume, benefiting from a high-quality speaker and microphone and a built-in noise reduction system. You can dial up people like normal, and pick up calls when they come by pressing the button and adjusting the volume. I don't really know if you're going to be bothered using such a big, ungainly gadget like the Retro Phone Handset out in the field, figuring that the thing is much bigger than your actual cellphone. The thing is probably is more trouble than it's really worth out in the street, but it's nice to use it around the house – there's something oddly comforting using an old-style handset like that.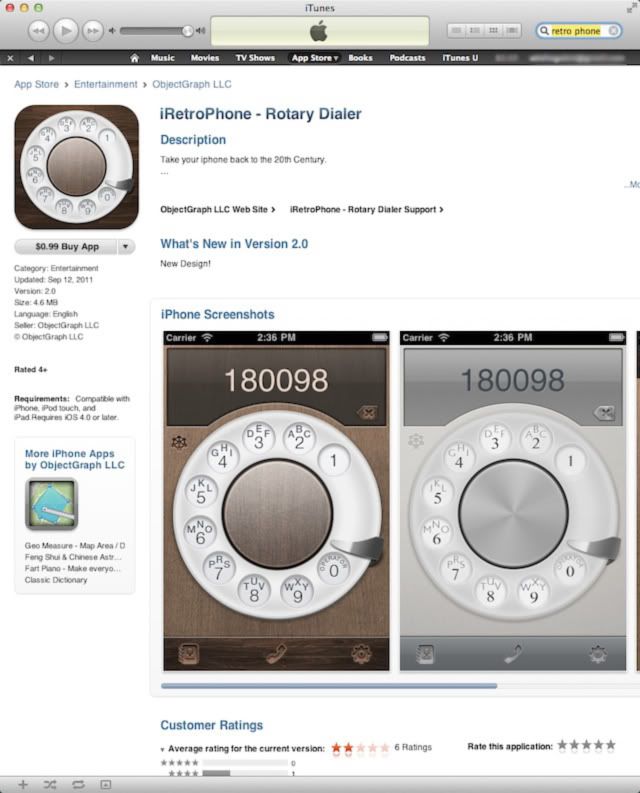 For Apple users, there is a app on the Apple App Store (purported to be free according to the literature on the box, but now being sold for $.99 – I know, I tried downloading it) that further enhances your old-time experience by providing a software-based rotary dial called iRetroPhone.  Optional adapters, USB plugs and splitters are available for purchase for compatibility with other devices, but it works with most computers already.
The Retro Phone Handset is a look back at the good old analog days when phones had rotary dials and curly cords, and is selling for a good cause as well. Get one for old times' sake.
AVAILABILITY: Digital Walker, Digital Hub, Beyond The Box
PRICE: Php1,850