Imagine electrical spikes and transient surges invading your home circuitry and wreaking havoc on your precious gadgets, or a power outage happening while you're working on an important file and you just haven't saved it yet. You're S.O.L. when that happens.
You better get a UPS soon. Power supplies are a neglected, but important part of our gear. Especially if they are uninterruptible power supplies, and better if they come complete with an AVR and a surge protector. Aside from giving you a power buffer when the lights go out and allowing to save your files and shut down properly, it also conditions the power coming down your line and makes it a comforting constant stream that gives your gear added safety.
I'm always on an unending hunt for cheap but good gadgets, and I'd been looking at UPSes online and in stores, looking to buffer and shield my gear from power problems. I came across a nice new CDRKing product yesterday: a 1000VA Uninterruptible Power Supply with AVR and Surge Protection.
Don't quote me on this, but I think it's a steal for P1990. Other brands of so-called cheap UPSes at half the rated power wattage and without the built-in AVR and surge protector start at prices way above that, and don't get me started on brand names like American Power Conversion. For instance, a cheap Taiwan-made UPS at 400VA without an AVR and surge protector (whose name I will not divulge) starts at the princely sum of P2100.
The bargain basement status and questionable longevity of products from CDRKing sorta worried me a bit, but hey, a 1000VA UPS with AVR and surge protector at under 2K? I'll give it a try!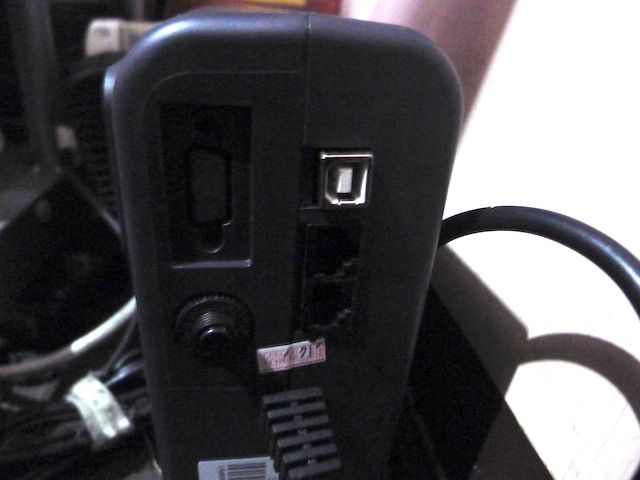 It's a grayish-black box with a circuit breaker, a USB port, an RS232 port and network-protection ports for your LAN and modem in the back. There are eight power outlets on the side (four of them connected to the battery back-up, and four regular unconnected, but still protected ones), and a power switch and an indicator light on the front. The four battery-back-up outlets only work when the power switch is turned on, while the other four are always powered up as long as the UPS was jacked in. The UPS runs on 220V only, and outputs the same. No 110V, sorry.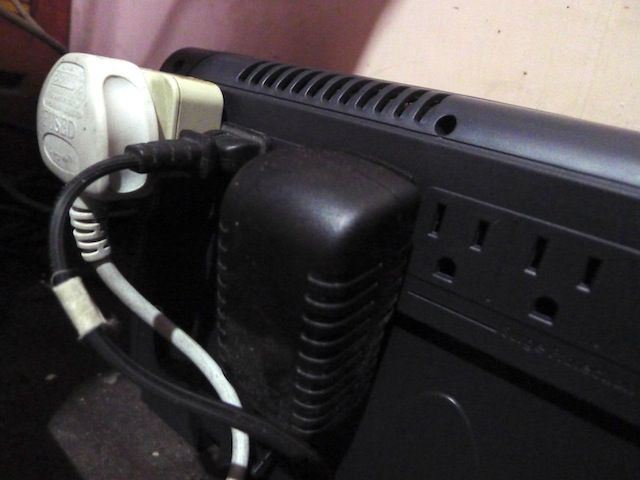 The problem with the outlets on the side is that they're too close together, and they accept only the standard two-prong jack with a grounding plug. So if your gadgets use large power bricks or come with non-standard plugs, you're going to encounter some problems getting them all to fit. My iMac uses a large international three-prong plug, so it took up more than its share of space with the adaptor. The power brick of one of my external hard drives is kinda large too, so I ended up with just the iMac and one of the drives plugged into the battery-back-up outlets, with the one single normal plug of another external drive squeezed precariously in. One of the battery-back-up outlets of the UPS was crowded out and unusable, which was a shame.
Higher-end UPSes often come with a USB jack that you can plug into your computer to monitor the power and the status of the UPS, and this unit came with one (although you had to supply the USB cord – it didn't come with it). You get access to the monitoring software by downloading it on the computer, but unfortunately I use a Mac – it didn't automatically detect the UPS and I had to rely on the provided software. But unfortunately it only works on Windows, Linux or Novell. (I downloaded some generic UPS monitoring software for Macs in a effort to get it to work, but so far no luck.)
I plugged in my gear and left the UPS overnight to charge up (in case it needed it), and this morning, I gave it the ultimate test for a Uninterruptible Power Supply – I unplugged it.
Voila, my computer didn't blink an eyelash. It continued to work, along with my external hard drive, and nary a glitch nor hiccup. I left it alone, unplugged, for five minutes, and it worked fine. I guess that's all that's needed to test the thing. It works great, the outlets provide a constant and stable power supply, and only time will tell whether or not it will last long. But for now, all I have to do is plug it in and forget about it, until the time comes when it's actually needed.
Price: P1990
Availability: All CDRKing branches.
Likes:
Inexpensive
High voltage rating – 1000V!
Comes with AVR and Surge Suppressor
Not too big and bulky
Dislikes:
The outlets are too bunched up together
No 110V