I'm pretty fussy with my gadgets. I like them to be clean and neat, which is why it galled me that my 2011 27″ iMac's bluetooth keyboard had become grimy and discolored after nearly a year of constant use. It was a great keyboard, short and slim (no numeric keypad), and the battery consumption was low; I'd only changed batteries on it once. But now it was a dirty little bugger. So the other night I set about cleaning it.
Using diluted dishwashing liquid and a lint-free cloth, I disconnected and turned off the Apple-made iMac bluetooth keyboard and proceeded to clean the keys one by one with the almost-dry but slightly dampened cloth, gingerly, drying the key off before proceeding to the next, until I got them all. The keyboard was spanking clean, and looked new and just out of the box. That was, until I connected it back and tried it out.
In short, it was screwed. A bank of keys in the middle refused to work, and the delete key and some of the other keys on the right side repeated incessantly or gave different symbols than those indicated on their keys. Maybe moisture had gotten into it despite my being extra careful, and was shorting out some of the keys. So I put it overnight in a plastic box filled with uncooked rice to make it dry out faster. In the morning, I tried it out again, and it was still the same. Damn it. Apple doesn't build 'em as sturdy as they used to.
It was actually the second keyboard that I screwed with my incessant cleaning. The first was a Microsoft-made ergonomic desktop keyboard that I did the same thing to years ago, although less carefully. I thought I was doing it right this time. I never learn. The iMac keyboard is under warranty, of course (I had Applecare, the optional additional two-year insurance for my iMac, though it has yet to kick in – it's still under the original one year warranty), but it's such a hassle to go through. I will, of course, but in the meantime, I gotta have something to use.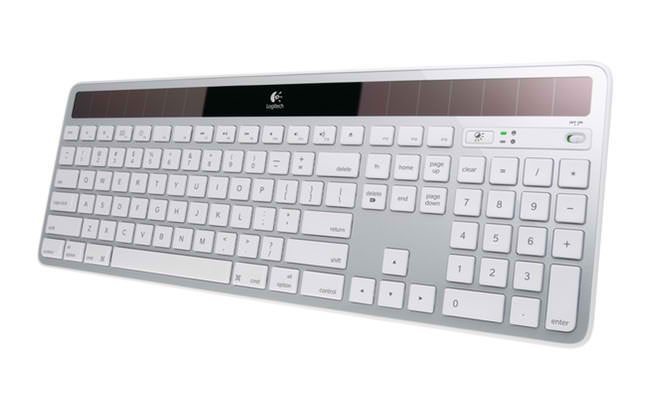 I took the opportunity to try and get me a keyboard I'd always wanted, the Logitech Wireless Solar Keyboard K750, which was a full-length one (with numeric keypad!) that operated on light, and never needed batteries, or even the newer K760, which was just like my busted keyboard, short and sweet, only it had solar panels on the upper portion. But there was none to be had. I checked the online sellers, and combed the brick-and-mortars on Gilmore and Greenhills. I even went to a store called DynaQuest in Cyberpod, near Robinson's Galleria, because they said they had some K750s in TipidPC (but didn't say whether or not they had any for Macs, but I took a chance and went anyway) but they were shut down. I saw a Logitech bluetooth keyboard for the iPad 2 in a store in Greenhills, but I thought I'd keep looking first.
I had another Logitech product, that iPad keyboard case that had flaked on me before, and it still worked if you had it physically connected by a USB cable for the power, so I was using that as my iMac's keyboard first. But I figured, why not set my sights lower and get myself that cheap CDRKing Bluetooth Mini Keyboard that people were raving about for months on my Mac forum PhilMUG?
So I went to the nearest CDRKing branch and checked it out. It was nice. It looked like my iMac keyboard. And it was cheap. What was I gonna lose? I bought it.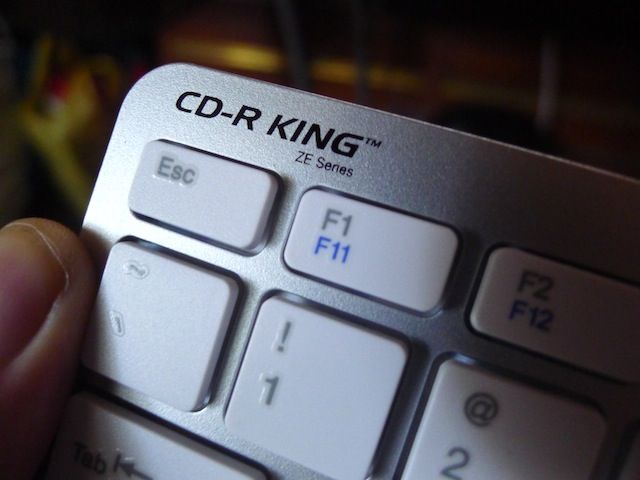 It looks almost exactly like my busted keyboard save for the Command key, which was in a different place and was marked with a Windows symbol, the wisdom of which escapes me – the packaging advertised it as being good for Macs, iPhones and iPads, but why did it have a Windows key? I saw that it ran on most PCs, which included different varieties of Windows boxes, so I guess habits die hard. The little row of key modifiers like Fn, CTRL and ALT are jumbled up a bit, and if you're a touch typist with a good memory, this is going to throw you. Also. most of the dedicated OS X keys are not on the top row of Function keys: volume, screen brightness and the like aren't there anymore, so that'll also take some getting used to, save for the Mission Control key which is still works on F9.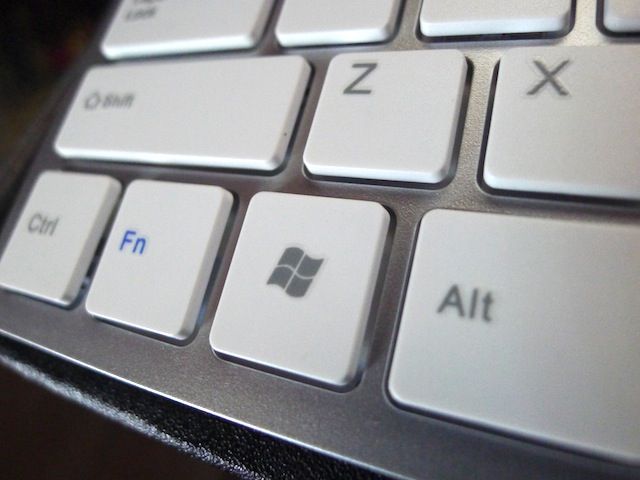 It didn't have the sweet curves the original Apple mini bluetooth keyboard had – it was blockier, and the battery housing-cum-table elevation thing was a rectangular, ugly box-like plastic thing on the upper back edge, as opposed to the rounded aluminum version on the Apple keyboard. It was also slightly thicker, and had a more conventional on/off and bluetooth pairing switch, and the material the keyboard was just made of, to put it bluntly, industrial plastic. But it worked.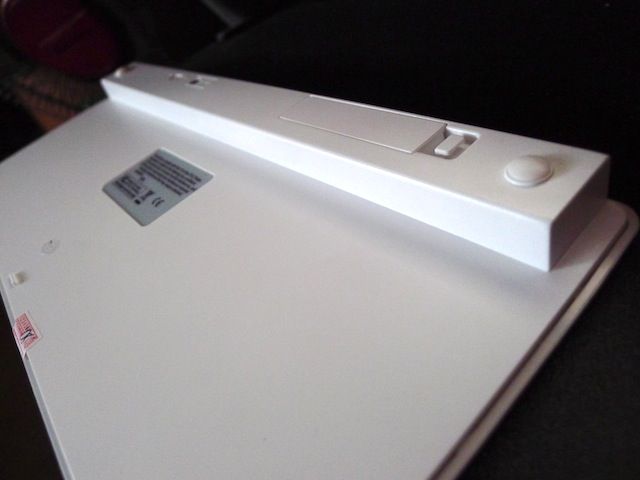 In fact, it worked great! The keys were solid , had good mechanical travel and were well-spaced, the whole thing was relatively quiet, with a subtle click-clack, and it was relatively sturdy. If you closed your eyes while typing, you could swear it sounded and felt just like the Apple keyboard. It's also good as an external keyboard for the iPad and the iPhone if you wanted to use it that way. I felt like I could bang on it with impunity and it would last pretty long – and if it did give way, it wasn't going to be expensive to replace. The original Apple Wireless Keyboard cost P3490. I got this one for P880 only!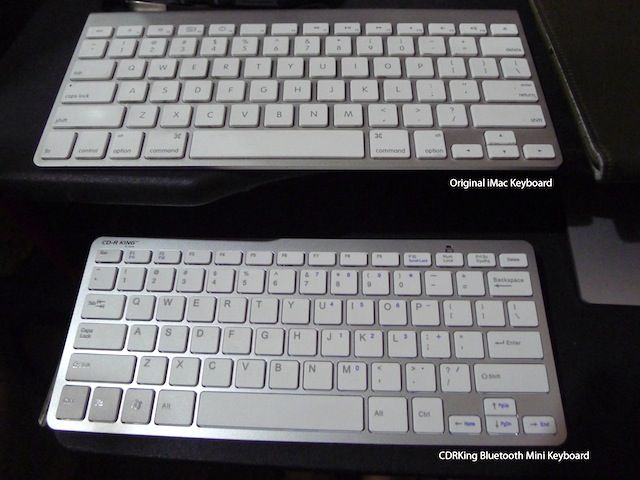 I don't know about the battery consumption though, this early in the game. It ran on two AAA batteries, which unfortunately wasn't included (but I had a bunch of rechargeable NiMH AAAs in the house, so I was all good). Maybe they'll power the keyboard for, what, three to six months? The keyboard apparently had "intelligent power manage software for power conservation", according to the marketing hype. Whatever. For what the keyboard cost, I'll be happy if the batteries powered the thing for two weeks.
The surprising utility and sturdiness of CDRKing's Bluetooth Mini Keyboard had blunted my desire to get a fancier replacement for the meantime, and now I'm not in a hurry to have Applecare fix my busted keyboard. CDRKing has a dumpy reputation, but sometimes it doesn't hurt to slum and try their stuff out. I've come across good ones, like that 1000VA Uninterruptible Power Supply I reviewed some time ago. Try it. You might be surprised.