Just wanted to share a throwaway accessory I found at one of the stores. (I realize Technoodling is on hiatus, but I gotta quickly share this one, it's so neat!)
It's nothing important, actually, but I find it quite useful. And quite a bit of an accessory for the slightly paranoid among us, too.
It's a third-party silicone sleeve for the DualShock 4—the new controller of the PlayStation 4.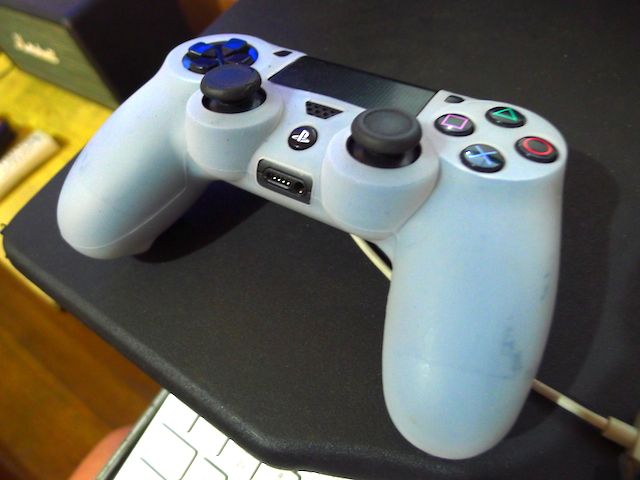 The DualShock 4 Silicone Sleeve for the PS4 comes in a simple plastic bag, no label, no box. God knows who made it and where it comes from, but suffice it to say it's pretty useful. I really like it.
I also realize I'm the guy who frowns on using cases and sleeves for his gadgets, but with the beating I give my controller in my gaming sessions, something like this is kinda required. So I made an exception in this case, and slipped that sucker on.
It's made of a thin, white silicone material. It's a tight fit, actually, and you have to make an effort to get the thing on, but once it's there, you never have to take it off. You can go back to beating on your controller with abandon, secure in the knowledge that you can't really damage it much (well, within reason).
It allows for unimpeded access to the controls; the cutouts for all the buttons and switches are precisely placed. My big worry was the cutout for the touchpad in the middle of the controller, but they (whoever they are) did that part nicely, having a humongous cutout that reaches out to even the front of the controller, leaving the light bar and the microUSB port exposed nicely. The edges of the cutout lie neatly and snugly along the lines of the DS4.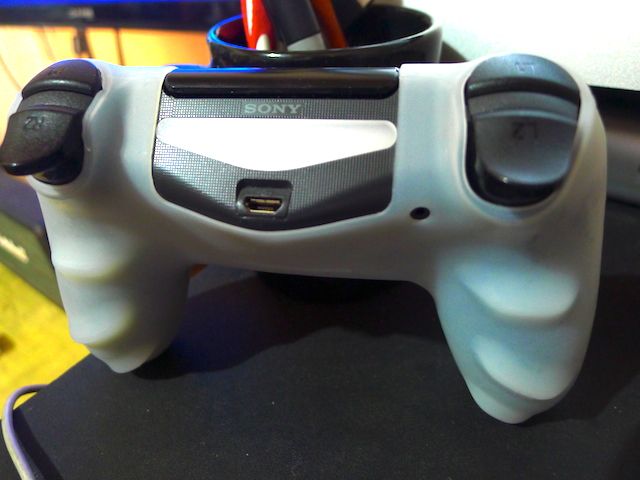 The best part about it is that it's really cheap.
Data Blitz sells it for only P95, so it's sort of a no-brainer purchase. Some enterprising PS4 users even sell it for P450 for a pair online, which is a bit overpriced. Hell, even the Data Blitz ones are probably overpriced, but they're the cheapest I've come across. (There are even round disc-like silicone covers for the analog sticks called Precision Grips going online for P250 for two pairs, but I draw the line at them; there's a point where simple protection becomes outright paranoia.)
The DualShock 4 Silicone Sleeve is a great investment for protecting your gaming gear, and if you ever get tired of it, you can just take it off and put it away, no regrets. I think this thing is going on my controller for the duration.